What Makes Mighty Line Tape Different?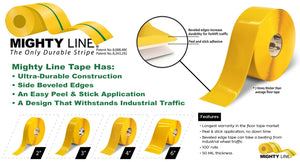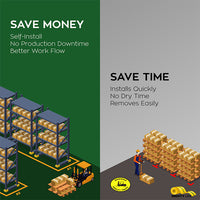 Saving You Time and Money
Here at the Mighty Line Tape store, we work hard to provide the best safety floor tape products on the market. We sell internationally and we are very proud to ship our Mighty Line tape to every continent, utilizing a service called i-parcel.
This service allows us to ship directly to you in 3-5 business days, while allowing you to pay shipping, duties, and all applicable taxes up front while i-parcel worries about the rest.

Ultra Durable and Super Safe
Mighty Line industrial floor tape is 50 MIL thick – which is as thick as two credit cards – and features an adhesive that is built to last. Plus, Mighty Line is the only warehouse floor tape on the market with a 3-year warranty. 
We also sell the easiest floor tape applicator to use on the market. The Mighty Liner is cheaper than other applicators and has the ability to install many different types of industrial floor marking tapes to the floor.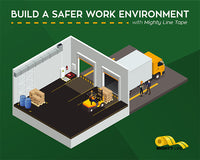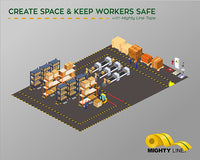 A Place for Everything, and Everything in Its Place
When you invest in our heavy-duty floor marking tape from Mighty Line, you're setting your company up for success. Not only will you be keeping your work environment more organized, but you'll increase your employees' overall safety.

Both of these factors lead to a better workflow and increased productivity, which in turn can provide more profitability. When you add heavy-duty floor marking tape to your operations, the benefits just keep piling up!
Keeping Your Industrial Facility Safe and Productive
Creating a walkway out of our tape will keep your workers from dangerous areas and also increase efficiency. It's never been easier to keep your warehouse organized with Mighty Line Tape!
Browse our available safety floor tape options to find the perfect products for your needs, and be sure to hit up our dedicated team with any questions.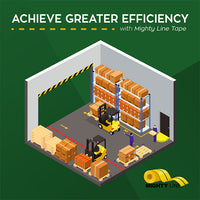 Diverse Industrial Floor Tapes and More
When you choose Mighty Line, you get a wide array of products to choose from. Our 5S warehouse floor tapes include:
• Solid floor tape
• Diagonal floor tape
• Striped floor tape
• Glow floor tape
• Clear floor tape
• Freezer floor tape
• Printed floor tape
• Anti-stick floor tape
• Floor tape with arrows
• Brick floor tape
• Reflective floor tape
Beyond these heavy-duty floor marking tape options, we also can provide:
• Floor tape angles
• Floor tape half angles
• Floor tape T's
• Floor tape dots
• Floor tape segments
• Floor tape footprints
• Floor tape large footprints
• Floor tape arrows
• Floor tape letters and numbers
Along with this, we have additional ways to make your facility safe and productive, such as through our:
• Pedestrian crossing signs
• Caution signs
• Stop signs
• Warehouse traffic signs
• Safety signs
• Work area signs
• Tape applicators
• Label protectors
• Absorbent mats
• All-purpose cleaners
• Custom floor tape
• Custom floor signs
Why Mighty Line? Watch Our Videos
Have Questions About Warehouse Floor Tape? Contact Us
If you're looking to install heavy-duty floor marking tape or other safety products in your facility but aren't sure where to start, be sure to contact our team. We can assess your needs and help you select the best products for you. You can also request samples from us!
Mighty Line Safety Floor Tape Is Utilized by These Well-Known Brands